Tavewa island package | 3 nights inc. transfers
Tavewa island package | 3 nights inc. transfers
Coral view resort Fiji - 3 night package
Tavewa, at the heart of the Yasawa islands in Fiji, is the perfect place to begin exploring authentic Fijian island life. Coralview Island Resort on Tavewa offers budget accomodations on their beautiful tropical island and provide a great selection of activities that guaruntee fantastic memories. Transfers to and from the resort are included on their dedicated Tavewa Seabus. So book now and begin exploring the Yasawa islands!
This package includes:
Your transfer from Viti Levu or any of the Yasawa Islands to Coralview Resort.
3 nights stay including breakfast. Choose between a dorm bed, a private garden view bure or a private beach front bure.
Complementary Tavewa island Fijian massage on the beachfront.
Free use of non-motorised water activities and equipment during your stay.
Your transfer from Coralview Resort to any of the Yasawa Islands or Viti Levu (mainland Fiji).
Available activities:
Non motorised activities (free):
Island hiking
Low tide reef walk
Use of Kayaks (glass bottom)
Jungle walk (learning about Fiji medicine)
Coconut Demo (climbing, husking, scraping & tasting)
Beach Bonfire (evenings)
Kava ceremony demo (story telling, learn Fiji's history)
Premium Activities (bookable on arrival):
Cave trip to Sawa-i-Lau
Blue Lagon Snorkelling
3 Reef snorkeling
Sunset Cruise
Fishing
Village Visit
Beachfront Bures - (24 square metters) This room type is open to a patio, just a few steps away from the beach. It is the perfect room to enjoy a fresh sea breeze and to get the feel of living in an Island.
Gardenview Bures- (30 square meters) This room type overlooks the garden and opens on a balcony or a patio.
Bed Dorms- (144 square metters) Dorms contains 10 beds and offer air conditioning, single beds and half cubicles per person. They also feature access to a comunal outdoor seating area facing the garden or the ocean. The perfect backpacker choice.
Getting to Tavewa
For this package, transfers to and from Tavewa island are included on the dedicated daily Seabus service, which stops at all the main Yasawa island resorts and originates/terminates in Lautoka on the mainland (Viti Levu).
You can chose to leave from and return to Lautoka if you wish only to visit Tavewa for the three nights, however, if you prefer to continue exploring the Yasawa islands you may opt for transfer to any of the other locations along the Seabus route instead. Your voucher includes 2 one way transers per person from and to anywhere along the route!
This makes the Coral view resort Tavewa package the perfect gateway to exploring the Yasawa islands! Simply select your preferred pick up and drop off pont from the list under transfers in the booking process to indicate how you wish to use the Seabus service.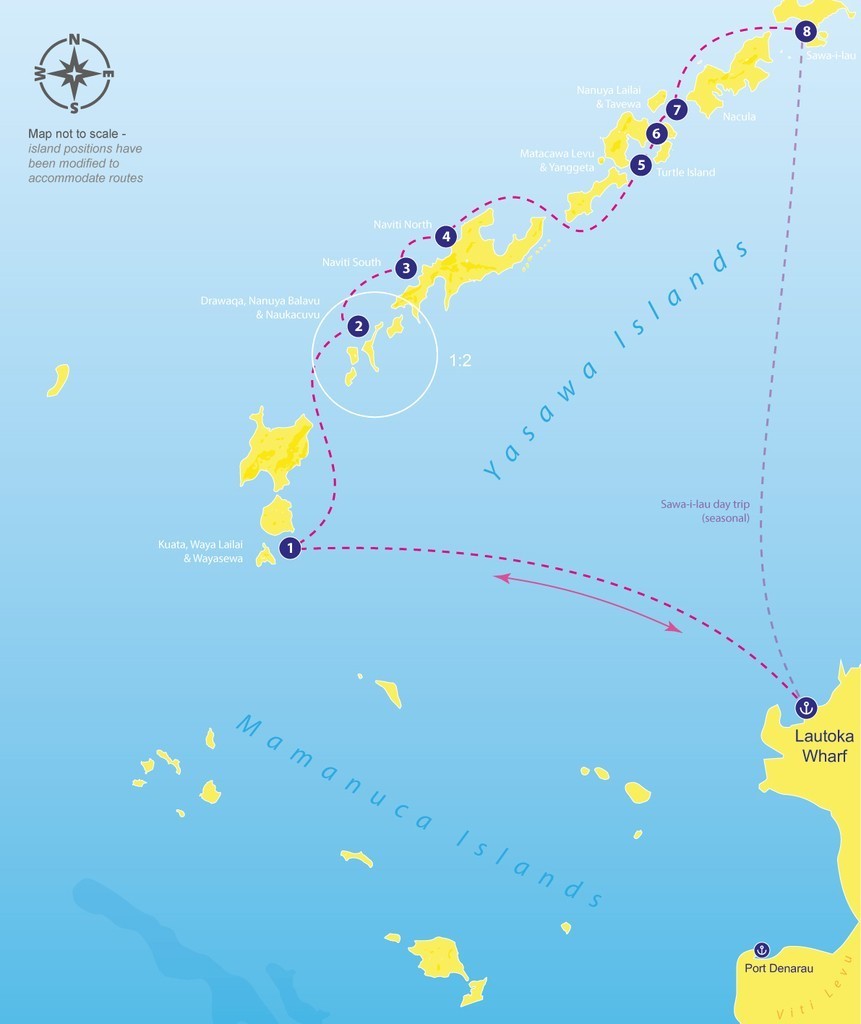 Cancellation policy:
Cancellations can only be refunded up to a maximum of 70% of the original booking value. Zero refund for cancellations within 48hours of travel.
Yalodu Enterprises Co Pte Ltd; reserves the right to cancel departures, alter prices and apply a fuel surcharge, arrange alternative transport and services if necessary.
All transfers are subject to sea and weather conditions. Should adverse conditions prevent operations the client is responsible for their own additional accommodation costs.
Date amendments are free subject to availability.
Summary
Location: Yasawa Islands
Duration: 3 Days
Categories: Single island packages
Check availability